Testing Products to Industry Standards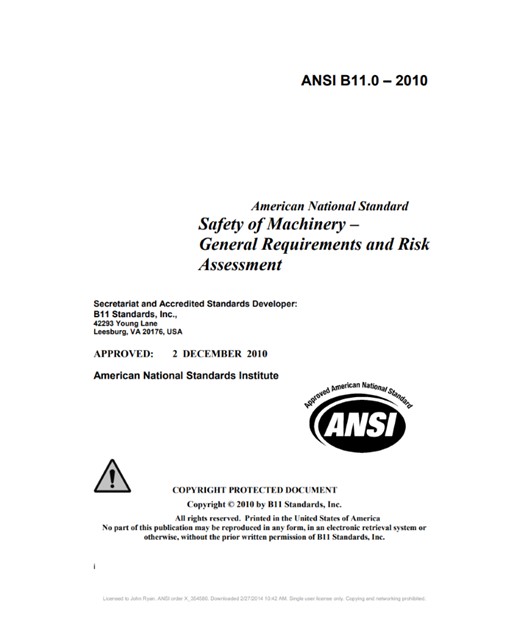 Example of Safety Design Standard, ANSI B11.0, the American National Standard Safety of Machinery - General Requirements and Risk Assessment
Testing Products Involved In Personal Injury to Industry Standards
Industry standards have evolved over the years, many becoming thorough guidelines to ensuring manufacturers produce safe industrial machinery. Some standard committees, including the infamous ANSI/ASC A14 are composed of manufacturers who have a bias to minimize safety restrictions, resulting in a standard that facilitates defective product production and increased profits for the committee representatives that are representatives of ladder manufacturers.
Most industry standards are produced by a good balance of experts and organizations that come together to produce a standard that ensures user safety while minimizing the burden to the manufacturers.
Voluntary versus Mandatory Standards
Industry standards are typically considered voluntary in nature although when an OSHA safety standard adopts a voluntary standard, that voluntary standard is now mandatory, and failure to comply, even without an accident involved, can result in fines. While most standards are considered voluntary, if an injury occurs that could have been prevented if the manufacturer had followed the safety design protocol in the voluntary standard, then often this is powerful evidence to force a settlement or convince a jury that a product is unreasonably dangerous.
Conformance to Industry Standards as a Defense
Conformance to voluntary industry standards is an excellent defense for manufacturers who despite their best efforts to minimize machine hazards and ensure operator safety, still find themselves in a lawsuit because of an injury. Showing conformance to modern design protocol and safety features shows that the manufacturer was trying their best to produce a safe product. This assumes that the safety standard in question is rooted in engineering design protocol, the scientific method, and utilizes hazard assessment. Manufacturers can ensure they are keeping their customers and machine operators safe by hiring professional engineers, following safety design protocol, the design hierarchy, engineering design protocol, and following industry standards.
How We Can Help

We have extensive experience testing products involved in accidents and injuries to see if the product conforms to industry safety standards. Usually an exemplar product that is the same model and batch as the product involved in the accident can be obtained, and tested to determine if it conforms to industry standards, without affecting the evidence involved in the case. Some situations could involve a product that is so obsolete, that no exemplar can be found. In these situations, it will be necessary to sort out in the court what can be agreed upon by both parties, witnessed, documented, and recorded for later scrutiny.

Contact MASE today at (855) 627-6273